CHILDREN'S DVD LIBRARY EDITION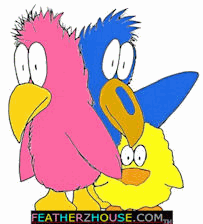 ®
FEATHERZHOUSE.COMTM
THE BEST AND MOST COMPREHENSIVE
CHILDREN'S BIBLE PROGRAM AVAILABLE!
The Featherzhouse Bible System™
is a complete solution to a successful children's
ministry for ages 4-10.
Everything you need "right out of the box"
for a proven program week after week.
Written by teachers in the field for over 15 years,
this system has been used successfully for the past
5 years to grab and hold children's attention
in a fun yet learning method.
Currently used for groups from 5 to 90 children
weekly both in church, school environments and on the mission field from 20 to 1500 children in China and Africa.
---

3
The
Library Edition
and Family Bible Study Version
Available in Old and New Testament DVD sets
in single DVD format.
These are fully automated versions of our program which gives you the option to teach or simply present the program.
These are perfect to teach your children Bible principles along side their home school curriculum or for Family Bible Study. No Teacher Required.
COMPLETE CHILDREN'S BIBLE LEARNING SYSTEM LIBRARY
JUST PLAY AND LEARN WHILE HAVING FUN
> Designed in 15-20 minute multiple program formats
> Running time average- 1hour 30 minutes per disk
> Perfect for Home Bible Study, Home School,
Day Care, Christian School, Sunday School,
VBS and Missions
OLD and NEW TESTAMENT 17-VOLUME SET

· SINGLE DVD DISK VERSION
· 3 DVD AGE-APPROPRIATE LESSONS PER DISK
· 6 VIDEO PUPPET SKITS PERDISK WITH AUDIO ENHANCED MEMORY VERSE FEATURING FEATHERZ, KUUKUU, AND MUNCHKEN
· 3 AUDIO ENHANCED BIBLE STORIES PER DISK WITH SOUND EFFECTS, NARRATION AND CHARACTER VOICES
· OVER 50 COLOR ILLUSTRATIONS PER DISK
· MOVING PICTURE AND SPECIAL EFFECT VIDEO TECHNOLOGY IN ALL BIBLE STORIES
· TALKING HEAD VIDEO/AUDIO ANIMATION WITH SPECIAL EFFECTS
· 3 ANIMATED AUDIO ENHANCED REVIEW QUESTION SECTIONS CONTAINING
5 QUESTIONS PER LESSON

FEATHERZHOUSE ACTIVITY PAK™
SOLD SEPARATELY
THE FEATHERZHOUSE 5-DISK ACTIVITY PAK ON DVD AND CD
• 20 Sing-Along Music Videos on DVD Vol 1 and Vol 2
• 20 Sing-Along Featherzhouse Band songs on CD
• Featherzhouse Digital Printable LEARNING WORKBOOK,
Coloring Book and Activity book Over 200 pages!
• Featherzhouse DVD Video Storybook Life Applications
with Featherz, KuuKuu and Munchken
5 EXCITING FEATHERZ STORYBOOK ADVENTURES